Shop Small Can Mean Big Profits for Small Companies
National Small Business Week was officially the week of September 13, 2021. But for many small business owners and consumers, the idea of shop small is becoming a priority year-round. This year, Small Business Saturday is on November 27, 2021. Retailers and independent businesses hoping to cash-in on local civic pride should start to prepare to market their local presence.
Applying is free and will not affect your credit score
Buying from Local Small Businesses is a Major Trend
According to a 2021 poll conducted by Intuit, "57 percent of consumers say they shop local to keep money close to home." However, due to the pandemic and the forced shutdowns of most small businesses associated with Covid 19, consumers spent only $12.9 billion on Small Business Saturday in 2020 versus $20 billion in 2019.
The recent Intuit Poll also sheds light on reasons why shoppers support local businesses and can give clues to what small business owners can do to appeal to this group of consumers.
Supporting local community – Consumers who shop locally help to support their communities in several significant ways.

Small businesses contribute to the local tax base and help to fund community services
Small businesses are the top employers in the country and provide local employment opportunities
A vibrant local economy supports strong real estate and property values

Sustainability – Small businesses are perceived to be more sustainable and environmentally friendly. Online commerce is increasingly being perceived as wasteful due to the excess of packaging materials necessary to ensure products arrive in-tact.
Personal Service – Large box stores have become busy, impersonal places with high employee turn-over and inexperienced staff. Small businesses offer a consistent, more attentive experience with shop owners that often have a history with shoppers and often can provide a customized experience.
Unique and Higher–Quality Goods – While big box stores may have lots of variety of products, they often will tailor their offerings to more common item SKU's because they cannot afford to follow current trends. Try shopping for trendy fashion items at a big box store and you will likely end-up at a party or event with someone else wearing the exact same thing. For those who wish to present their style through fashion, a small business can offer a unique approach.

Shopping at a small boutique on main street can be a driver for many hard-to-find items and unique gifts for the holidays.

Similarly, when consumers buy produce at a large box store they will likely need to buy in bulk (more than they need) and often it is not ripened. Local produce is often offered at the peak of ripeness.

Expert knowledge – In many cases, small business owners are experts in their field and have intimate knowledge of their products and services. This is particularly important for home improvements or other high-end purchases. Consumers can get first-hand knowledge from an owner that simply cannot be matched by speaking to a part-time sales clerk. Let customers know that you can assist with holiday gift ideas or offer gift cards.
Perhaps the most compelling argument for small business owners to appeal to local shoppers is that consumers are motivated and willing to help. According to a study by Red Egg marketing over 80% of consumers say they are willing to pay more with a local retailer than at a large chain store.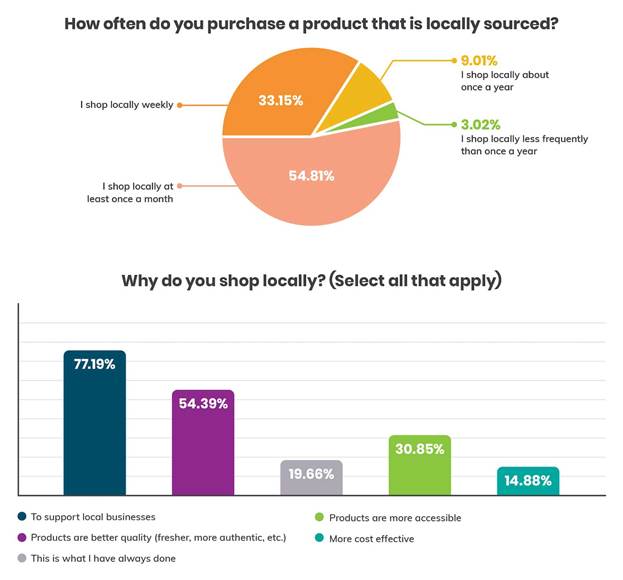 How Small Businesses Can Prepare for Small Business Saturday?
Local retailers being part of the community:

Sponsor a local youth sports team,
join the local chamber of commerce and get on the shop small map in your community
support and participate in local events
Create a web site and keep it current with ideas and additional services associated with your products

Write blog posts and social media posts that talk about things in your community.
Keep it light, positive, non-political, useful and appeal to human interest

The best places to pick pumpkins with your kids
Promote another business in your community
Talk about events and other activities in your community

Create a social media presence

Make daily, relevant, timely and useful posts
Join local social media groups and participate actively
learn the proper use of hashtags

"Out-service" the big stores: Consumers are becoming interested in better shopping experiences. Studies are showing some "purchase behavior fatigue" with online shopping and large chain stores. Putting effort into a customer satisfaction program will help you retain existing customers, increase purchases and attract new customers.
 
 Some tips on simple steps to enhance customer satisfaction:

Offer clinics, "how-to" classes or instructional events 

Offer ongoing support programs (extra income) to your customers
Send follow-up emails or phone calls to customers shortly after they make purchases.
Offer delivery and pick-up services as well as curbside pickup service. Many people will continue to want contactless service because of coronavirus fears.
TIP: Post-purchase correspondence to your customers will instill confidence and help with customer retention. Use text messaging (SMS) or email to follow-up purchases within 48 hours of the purchase.
Small Business Saturday can provide a meaningful boost to your bottom-line during the holiday shopping season. While not as big as Black Friday or Cyber Monday, The annual Small Business Saturday can be very rewarding during the holiday season if you get prepared and get your message to the support small consumers in your area. 
Make your presence in the community noticeable. Utilize social media and window signs to tell your customers what you do in the community and ask for support directly and indirectly.
Applying is free and will not affect your credit score