Timothy Kelly is a 30-year veteran of the financial services and financial media industry. Mr. Kelly writes extensively on issues affecting small business finance and lending.
Tim is the Founder of ForexTV.com. Since its inception in 2003, ForexTV has been a global leader in forex and economic news and has expanded its news coverage to multiple industries. ForexTV is now one of the most recognized brands in global financial news.
Mr. Kelly was also the creator and founder of Retirement Intelligence. He has consulted some of the top brokerages, media companies and financial exchanges on editorial content management including: The New York Board of Trade, Chicago Board Options Exchange, International Business Times, The Nighly Business Report, Briefing.com, Bloomberg, Bridge Information Systems and 401kTV. He continues to be a regular market analyst and writer for ForexTV.com.
Tim held a Series 3 and Series 34 CFTC registration, was also a licensed Property & Casualty; Life, Accident & Health Insurance professional in New York State and formerly was a Commodities Trading Advisor (CTA).
In addition to writing about the financial markets, Mr. Kelly writes extensively about business finance.
Mr. Kelly attended Boston College where he studied English Literature and Economics, and also attended the University of Siena, Italy where he studied Italian language and culture.
Mr. Kelly has been a decades-long community volunteer in his hometown of Long Island where he established the community assistance foundation, Kelly's Heroes. He has also been a coach of Youth Lacrosse for over 10 years. Prior to volunteering in youth sports, Mr. Kelly was involved in the Inner City Scholarship program administered by the Archdiocese of New York.
Before creating ForexTV, Mr, Kelly was Sr. VP Global Marketing for Bridge Information Systems, the world's second largest financial market data vendor. Prior to Bridge, Mr. Kelly was a team leader of Media at Bloomberg Financial Markets, where he created Bloomberg Personal Magazine with an initial circulation of over 7 million copies monthly.
Tim has been featured in: Forbes.com, Wall Street Journal Online, Newsweek, Barron's, Banking Exchange, International Business Times, NPR and dozens of major US and international journals.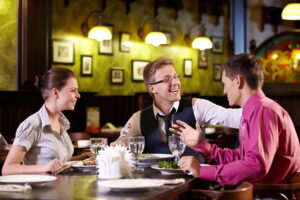 For a restaurateur, embarking on the journey of opening a...
Read More
Applying is free and will not affect your credit score